A firewall is one of the most vital pieces of defense your business has against digital threats..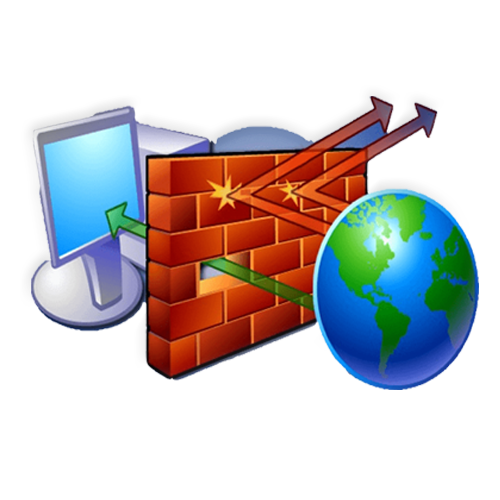 Unified Threat Management (UTM) provides multiple security features and services in a single device on the network, protecting users from security threats in a simplified way. UTM includes functions such as Firewall, Antivirus, Antispam, Intrusion Prevention/Detection, Web-Application Control, Sandboxing, Link Load Balance, Bandwidth Management, Client Authentication, VPN and Detailed Reporting.


Why we need firewall for our organization?
Without a firewall, any request will pass through to vulnerable systems, making it possible for malicious actors to access your computer for their own gain. A firewall blocks unauthorized requests and allows passage only to designated traffic. There are a couple of functions used by the firewall to ensure your servers' safety, and we will briefly go through them.

Features of Unified Threat Managment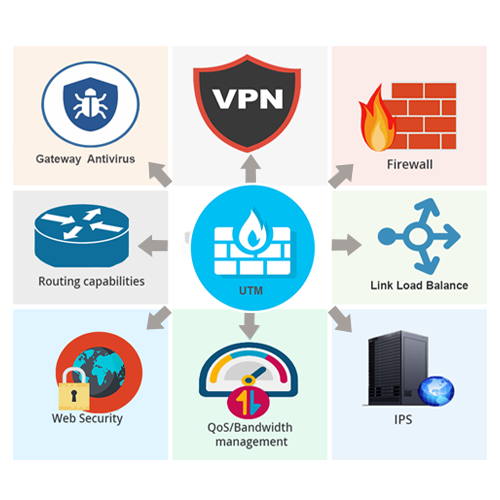 Firewall
Firewall has the ability to scan incoming and outgoing traffic for viruses, malware, phishing attacks, spam, attempts to intrude on the network, and other cybersecurity threats. Because UTM firewalls examine both the data coming in and out of your network, they can also prevent devices within your network from being used to spread malware to other networks that connect to it.
Link Load Balance
Link load balancing is the technique of using a multilayer switch to evenly distribute data center processing functions and heavy network traffic loads across multiple servers so as not to overwhelm any single device.
SD-WAN
Safeguard users and devices across your WAN while streamlining IT operations. Zero trust session integrity driven by secure vector routing and deny-by-default access policies are just some of the ways we ensure simple but effective security with SD-WAN
Site to Site VPN
A virtual private network, also known as a VPN, is a private network that extends across a public network or internet. It enables users to send and receive data across shared or public networks as if their computing devices were directly connected to the private network.
Client/Remote VPN
A remote access VPN gives employees access to secure connection with a remote computer network and they can access resources on the network as if they were directly plugged into the network's servers.
Gateway Antivirus
The Cloud Gateway Anti-Virus feature introduces an advanced malware scanning solution that compliments and extends the existing Gateway AV scanning mechanisms present on firewalls to counter the continued growth in the number of malware samples in the wild.
Web Content Filtering
Content filtering is a process that manages or screens access to specific emails or webpages. The goal is to block content that contains harmful information. Content filtering programs are commonly used by organizations to control content access through their firewalls.
Intrusion Prevention System
The main functions of an IPS are to identify suspicious activity, log relevant information, attempt to block the activity, and finally to report it. IPS's Enables protection for a wide variety of attacks, such as SQL injection, cross-site scripting, remote code execution, shell code payloads and remote procedure calls.
Application Control
Application control includes completeness and validity checks, identification, authentication, authorization, input controls, and forensic controls, among others. Simply put, application controls ensure proper coverage and the confidentiality, integrity, and availability of the application and its associated data.
Bandwidth Managment
Excessive bandwidth usage in one part of your network that can impact the entire network's performance. Bandwidth problems can even affect business-critical services and lead to network downtime. If you're simply buying additional bandwidth to mitigate this issue, but you may be only treating a symptom of a bigger problem.
Sand Boxing
Sandboxing is a cybersecurity practice where you run code, observe and analyze and code in a safe, isolated environment on a network that mimics end-user operating environments. Sandboxing is designed to prevent threats from getting on the network and is frequently used to inspect untested or untrusted code.
Antispam
Anti-Spam Engine offers a total filtering solution, catching junk mail and viruses before the emails even reach our servers. This ensures your inbox stays clean and saves you hours of manually dealing with unsolicited email. AntiSpam makes its services effortless from initial installation through final reporting.
Reporting
Provides real-time event monitoring, user activities, bandwidth consumption, application identifications, flow analytics and forensics, compliance and audit reporting, scheduled reports, and more.

Choose Firewall for your Oraganization
Yes

Yes

Yes

Yes

Yes

Yes

Additional Cost

Additional Cost

Additional Cost

Yes

Yes

Yes

Yes

Yes

Yes (OS7)

No

No

No

Additional Cost

Additional Cost

Additional Cost
Yes

Yes

Part of SD-WAN

Yes

Yes

Yes

Yes

Yes

Yes

Yes

Yes

Yes

Yes

Yes

Yes

No

No

No

Free Virtual Appliance, Cloud 1 Day

Free
Yes

Yes

Yes

Yes

Yes

Yes

Yes

Yes

Basic

Yes

Yes

Yes

Additional Cost

No

Yes

Additional Cost

On Appliance

Additional Cost
Yes

Yes

Yes

Yes

Yes

Yes

Yes

Yes

Yes

Yes

Yes

Yes

Yes

Additional Cost

Additional Cost
Yes

Yes

Additional Cost

Additional Cost
Additional Cost

Additional Cost